Parking garage washing and sweeping is necessary to keep customers and employees happy about where they park and to reduce accidents, slip and falls.
A well-maintained parking garage will pay for itself by higher customer traffic, better resale value and higher rents at apartment buildings and retail locations.
For proper parking garage power washing, our Cypress, Texas team cleans and mops the parking structure to include overhead pipe cleaning. Get your free quote today!
Parking Garage Pressure Washing
Eliminate health risks & prevent slip and falls
Remove unpleasant odors, dirt, and debris
Pillar and barrier walls cleaned
Oil stain cleaning

Interior and exterior cleaning available

Exhaust fans housing and overhead pipes cleaned

Affordable • Convenient • Fast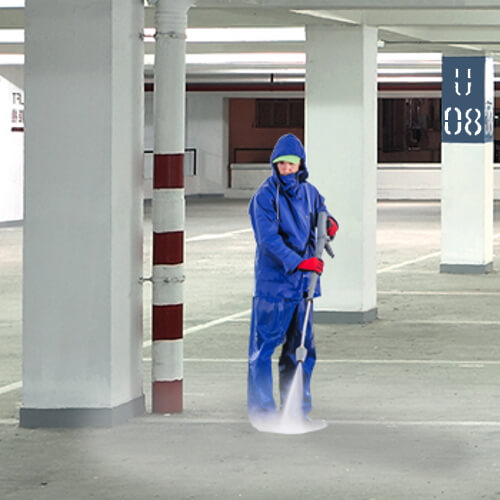 Pressure Washing Cypress provides year round maintenance to help keep the parking garage areas free from debris, dangerous oil spots and building code violations.
Our local Cypress pressure wash company helps to cleanup underground or above ground parking areas to attract customers and get your site ready for paint or refinishing.
Get your free commercial parking garage pressure washing quote today.
F.A.Q about Parking Area Cleaning
Why should I pressure wash my parking garage?
A clean parking garage helps customers and residents feel warm and welcome. It's all about an impactful first impression.
Therefore, the state of your parking garage makes an impact on prospective tenants, it can also have a significant impression on your current tenants and their clients and prospects.
Can you remove oil from concrete?
Removing oil from concrete is a tricky process.  We can generally remove the oil from the surface but if enough oil has been there long enough it will penetrate deep into the concrete and become impossible to remove completely.
Do you also clean the overhead pipes and barriers?
Yes. We can absolutely clean the overhead pipes and barriers. Just let us know what you're interested in cleaning when scheduling a walk-through for cleaning.
What cleaning agent do you use?
Our detergent is biodegradable, safe to human, pets, and plants, and proven to be effective.
Every parking garage is treated differently based on the condition of the property and when the last time the garage was cleaned.
Our Cypress soft wash technicians will evaluate the condition of your parking garage, and mix the cleaning agent onsite.
Do you also clean the exterior of the garage?
Yes. We can wash the exterior structure as well as the interior concrete and walls!